Connecting Communities: Your Bridge to Success
Connecting Communities is a free service that can support eligible individuals* into full time employment.
There are lots of jobs in the City of London, and Connecting Communities can help individuals by: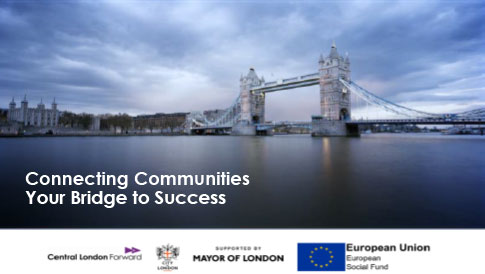 Improving basic skills
Learning new skills
Preparing for a job
Putting together a CV
Gaining work experience
Accessing and applying for local jobs
To arrange a meeting with one of their experienced Caseworkers, email bridgetosuccess@cityoflondon.gov.uk, phone 07599 102164 or visit their website for more information.
They look forward to helping! Find out more on the Connecting Communities webpage.
*Eligibility requirements: Individuals must be aged 18 or over, not in full time work, training or education and live in Camden, the City of London, Hackney, Haringey, Islington, Kensington and Chelsea, Lambeth, Lewisham, Southwark, Tower Hamlets, Wandsworth or Westminster.