Registrations for our bursary programme are currently closed.
Bursaries – grants for training
Supporting people who need it, to get the skills society needs.
Frequently asked questions (FAQs)
Free courses and other options
City & Guilds bursaries: breaking barriers
of bursary recipients are in employment 6 months after completing their course
of bursary recipients are earning over the median salary
of bursary recipients are optimistic about the future
of bursary recipients feel more in control
Our bursaries are designed to change people's lives through skills. We know that for some people the cost of training can be a huge barrier to getting them the skills to find jobs and progress in their careers. And recent research indicates that without the support of bursary funding, those hardest to reach will find it harder to progress in a labour market which favours those already in higher-paying work.
That's why we set up the bursary programme in 2000; to help people in genuine financial need access training programmes so they can develop skills for meaningful employment.
We know there are huge skills shortages in sectors that are extremely important for the future of the UK, and a growing number of jobs available that employers are finding it difficult to fill. And that's why last year we decided to only award bursaries in sectors where we know there are more skilled workers required for the future.
Bursaries cover the total cost of studying in a grant, so learners can study for their qualification without worrying about paying anything back.
And we know that employment nearly doubles as a result of our Bursary programme.
Our bursary programme opens three times a year – in Spring, Autumn and Winter.
Anyone aged 18 and over…
Who is in genuine financial need* *Financial need defined as 'When someone is unable to afford a course and has reached out and explored other options'
And a UK resident and wanting to study here
Who has not started their course yet
The bursary panel are also keen to see evidence that applicants have thought about the employment opportunities available and possible career routes.
Bursary recipients will be required to keep in touch with the Foundation team to help us evaluate the impact of receiving a bursary, so we can continue to support those in need.
City & Guilds and ILM qualifications
We want to make sure that receiving a City & Guilds bursary gives you the best possible chance of finding employment opportunities.
You can apply for funding to study towards a qualification in one of the below industries which we know is facing skills shortages and that requires skilled workers now and in the future.
These include:
What's included in a bursary
You can apply for a bursary of up to £6,000. This is to cover the total cost of your training programme and any tools or learning materials required. In exceptional cases we may award the costs for travel as required for training, which will be agreed in advance of the start date, and childcare which we will pay directly to Ofsted registered childcare providers.
Most bursaries granted are for amounts between £2,500 and £5,000. If you are awarded a bursary, it may be a partial reward and not the full requested amount.
Registrations are currently closed and will reopen in 2023.
Who makes the final decision about whether I receive a grant?
The City & Guilds Foundation bursary panel has the final say on the amount of funding available for bursaries and who receives grants.
The below information is for those applying for a grant to study a City & Guilds or ILM qualification. The new application process is designed to save applicants time, with an initial registration of interest form to be completed and reviewed by the Foundation before a full application form needs to be filled in.
Read all the details on this page, including FAQs, to familiarise yourself with what the bursary panel is looking for, then join/listen to a webinar to ask any questions
Complete the online registration form. This will ask you basic details about yourself and the programme you would like to study
The bursary team will review your form and if you are eligible will follow up with a full application form where you will be asked to share more details about the course you would like funding for and when you would like to start
The strongest applications will then be shortlisted and applicants invited to interview either in person or online
Recommendations for grants will be presented to the bursary panel who will discuss and approve
Applicants who attended an interview will be contacted to be told whether or not they will receive a grant
All those granted a bursary will receive details of the amount of funding, and how it will be paid, as well as details of how they can request any learning materials or tools if covered by the bursary
Note – we only accept applications online. If you are a serving prisoner or have special needs or disabilities that mean you are unable to complete the online forms please email bursaries@cityandguilds.com to request a hardcopy.
Hundreds of people in need have received bursaries from the City & Guilds Foundation in the past 20 years.
People who have previously received a bursary are a big part of our alumni, and we will host events and offer opportunities to network and get involved in the wider work we do at City & Guilds Foundation. If you received a bursary in the past or would like to speak to someone who has, please contact us at bursaries@cityandguilds.com.
Frequently Asked Questions (FAQs)
Do I need to secure a place on a course before I apply or receive confirmation of funding?
We don't need you to secure a place, but we do need to know that you have the credentials to do the relevant qualification (and that your chosen training provider agrees), and there is availability.
We are unable to provide funding for past courses or currently enrolled courses.
How do I find a course to study?
Think about what you'd like to study and what you would like to do (in the interview you will be asked about that qualification and how that links to a job or career you may be able to do as a result.
See the list of qualifications available for bursaries.
Find a preferred course centre that runs these courses or C&G or ILM qualifications and that has great reviews, easy to get to, has a timetable that works for you. They may also be able to give you career advice about which qualifications are suitable for which jobs.
Some links which may be helpful are:
Why do you only support bursaries for some ILM or City & Guilds qualifications?
City & Guilds Group is at the forefront of the skills gap debate, and a big advocate of jobs for the future. We are keen that the bursary programme helps solve the two big skills issues of the day:
those who need skills the most are not currently able to develop skills [1] (hence the bursary programme to remove the financial hurdle); and second
in the UK today, there are some key sectors with significant skills shortages. We need more people skilled in these industries. [2] (hence, why we are only currently supporting bursaries in some sectors)
Can I apply for a course that is not ILM or City & Guilds accredited?
The bursary is open for selected ILM and City & Guilds accredited qualifications, as well as a selected number of other courses offered by City & Guilds Group companies, such as Intertrain courses. The full list is on the bursary website page.
Do I need to know exactly when I want to start in order to apply?
No you don't, but it would be good to have some clarity about when you might be able to start, depending on the length and regularity of start dates. We recognise at this time, some course dates may have to change, and that shouldn't affect your bursary. You do need to have started the course within a year of being given a bursary.
Can I apply for a few different bursaries?
No. Just one application per person. You may, however, come to the interview with different options, which could be discussed at interview.
Where else should I look if I'm not eligible
There are a number of other organisations offering bursaries. Please see alternative options for funding below.
When exactly will grants be awarded?
We open registrations several times per year (Spring, Autumn and Winter). When registrations are open, you will be able to complete an application form if you are eligible. Most applicants will know if they are successful in being awarded a bursary within two months of the applications opening. Please note that this is only a guide and not a guarantee. If your course is due to start within a month of you applying for the bursary you will not get the funding in time to start your course.
| | |
| --- | --- |
| If your application is in by: | We will let you know by: |
| End of June 2022 | End of August 2022 |
| Mid October 2022 | End of November 2022 |
| Mid February 2023 | End of March 2023 |
| End of June 2023 | End of August 2023 |
| Mid October 2023 | End of November 2023 |
| Mid February 2024 | Mid April 2024 |
| End of June 2024 | Mid August 2024 |
| Mid October 2024 | End of November 2024 |
What happens if I change my mind?
The bursary will no longer apply if you do not enroll in the course within a year. And we will stop the payment of the bursary should you fail to complete the course.
In extreme unforeseen circumstances where you need to pause or postpone your course, please first speak with your training provider and advise us of the situation. In these circumstances, we may be able to continue the bursary when you re-start, but only if we have agreed this upfront.
I have previously been awarded a bursary, can I apply again?
We are aware that the world of work is changing at pace, and you may need to reskill to sustain employment. If you can show that you have used the previous course or qualification gained through the bursary, and there is a significant reason to need a further qualification, we will consider this. Please make your reasoning clear on the application form.
I have previously applied and been rejected for a bursary – can I apply?
Yes. Although please bear in mind the feedback given as to why we were not able to support your application, and whether your circumstances have changed.
---
[1] The recent Adult Skills Gap report, 2019 shows that "the poorest adults with the lowest qualifications are the least likely to access adult training – despite being the group who would benefit most". 
[2] Skills Shortage Bulletin, The Edge, 2018, including Engineering UK 2018: The state of engineering, the RICS UK Construction and Infrastructure Market Survey for Q1 2018 and the CBI / Pearson Education and Skills Survey 2017
What costs can I apply for?
Course fees: These will be paid direct to the training provider in accordance with their requirements. And, we may also award appropriate travel, childcare & learning material costs:
What travel costs can I apply for?
At your interview, the location of your course and the travel options will be worked out and agreed. As standard, we will look to support you for public transport costs, if appropriate, but will consider mileage, if necessary.
What childcare costs can I apply for?
You will need to bring to the interview a realistic timetable of childcare against your course requirements (i.e. how many hours needed, the Ofsted registered provider and expected costs.
What learning materials can I apply for?
You will also be expected to have researched what learning materials are needed, and to bring a list to interview. If materials are agreed to be covered, City & Guilds Group will purchase these on your behalf.
Can I be reimbursed for a programme that has already started and paid for?
Unfortunately, we are not able to offer bursaries for courses already started. If you have had a significant change of circumstances, and can explain this, please complete an expression of interest form below, and we will get back to you.
Can I apply for a course that is part-time?
Absolutely, there is a great variety of length of courses and qualifications for which we offer bursaries, and these can be completed either full or part time.
Have you received a bursary already and need to make a claim?
If your enquiry is about a bursary that has been awarded already, the bursaries team are now working from home with no access to claim forms sent to the London office. Please send any claim forms and proofs of purchase (photos or scans) via email to bursaries@cityandguilds.com.
Please note response times may be slightly longer than usual due to the impact of Covid-19 on staff.
What is the process for applicants?
We ask everyone to complete a short 'expression of interest' form.
Once we have received and agree you are eligible, we will get back in touch quickly to send you the application, which should be filled in online. (If you need a paper-based version, please advise us).
Once we have received your application form, you may be invited to an interview, after which we will make a decision if we are able to offer you a bursary, and for what amount.
What is the criteria for making the decision? / How do you decide?
After an expression of interest, we will ask you to fill in a longer application form, and after that, to come to an interview where these three aspects will be discussed confidentially.
How much detail do I need to share about my 'financial need'?
In the application form and at interview stage you will be required to show some information about your incomings, outgoings and assets, and being to the interview some evidence of this, such as utility or rent bill, bank account or testimonial from a support worker. All this will be detailed if you are asked to attend an interview.
And please be prepared for you and the interviewers to have an open, honest and confidential conversation about these aspects.
Where will be the interview take place?
We would normally invite you to an interview at a City & Guilds office as near as possible to where you are based. We have 13 offices across the UK, so we will agree the nearest office to you for the interview. See a list of our offices on the City & Guilds Group career website. In 2020, this interview will be conducted online.
What happens at the interview?
The purpose of the interview is for you to bring to life your application. We want to talk to you about why you're interested in the course and what you want to after completion. It's also a chance for our staff to see how our qualifications and courses are being used, and to develop their skills by being part of the bursary programme process.
How do I prepare for the interview?
You've done the hard work through the application! Just have a think about why you chose the course and what you're going to do with it. And have a think about the practicalities – do you need any tools or special equipment to take the course? Is there anything else you may need? How you're going to get there? What effect it has on your caring responsibilities? And please bring some recognised form of ID.
And at the interview, just be yourself.
Will I receive feedback on my application?
If you are invited for an interview and are not successful, we will explain why we weren't able to offer you a bursary at this time.
How likely is it that I will receive a grant?
This form of bursary is quite a new process, so we're not sure at this stage of numbers. Historically, we have granted bursaries for one out of three applicants.
Do you keep in touch once I've completed the course?
We ask as part of the bursary that you feed back to us on completion of the course and 6 months later – both via a short online questionnaire. This enables us to understand to what extent the bursary programme has made a difference.
We're working with lots of partners to make sure the bursary offer reaches as many people as possible who need it most. Those partners are often connected to employers or within a specific industry, so they may, along with your training provider, be able to offer suggestions and where to find support. We are hoping to make this a more formal offer as part of the bursaries in the future.
Introduction
The City & Guilds Group is committed to data security and the fair and transparent processing of personal data. This privacy policy (Policy) sets out how we will treat the personal data which you provide to us in compliance with applicable data protection law, in particular the General Data Protection Regulation (EU) 2016/679 (GDPR).
Please read this Policy carefully as it contains important information on who we are, how and why we collect, store, use and share personal data, your rights in relation to your personal data, how to contact us and supervisory authorities in the event that you would like to report a concern about the way in which we process your data.
Who are we?
The City and Guilds of London Institute is a charity incorporated by Royal Charter, with registered charity number 312832 (England and Wales) and SC039576 (Scotland) (City & Guilds). Our registered address is Giltspur Street, 5-6 Giltspur Street, London EC1A 9DE.
For the purposes of the GDPR, City & Guilds is the 'controller' of the personal data you provide to us or one of our associated companies (together the City & Guilds Group).
If you have any queries about this Policy, the way in which City & Guilds processes personal data, or about exercising any of your rights, please send an email to gdpr@cityandguilds.com or write to Data Protection, City & Guilds, Giltspur Street, 5-6 Giltspur Street, London EC1A 9DE.
City & Guilds collects the data of its bursary applicants. This Policy, any other documents referred to in it, sets out the basis on which City & Guilds processes personal data.
What personal data do we collect?
We may collect and process the following personal data:
Information you provide to us:
Name
Age range
Course and centre name / location
Address
Email address
Telephone number
Sex
Employment status
Qualification level
Information about your income, expenditure, debt and savings
Career interests
Your skills and experience
Your professional development goals
Disability information/any adjustments/learning difficulties
Equal opportunity monitoring information
Information we collect about you
If you visit our website, we may automatically collect the following information:
technical information, including the internet protocol (IP) address used to connect your computer to the Internet, login information, browser type and version, time zone setting, browser plug-in types and versions, operating system and platform;
information about your visit to our website such as the products and/or services you searched for and view, page response times, download errors, length of visits to certain pages, page interaction information (such as scrolling, clicks, and mouse-overs), and methods used to browse away from the page;
any phone number used to call our customer service number.
Information we receive from other sources
We may also receive information about you if you use any of the other websites we operate or the other services we provide.
We may also receive information about you from your education provider when they register to receive products and/or services from us.
Information about other people
If you provide information to us about any person other than yourself, such as your relatives and next of kin, you must ensure that they understand how their information will be used, and that they have given their permission for you to disclose it to us and for you to allow us, and our outsourced service providers, to use it.
Sensitive personal data
In certain limited cases, we may collect certain sensitive personal data from you such as information about your physical or mental health of condition, to enable us to administer requests for reasonable adjustments or sensitive personal data or racial/ethnic origin in order for us to be able to monitor our bursary scheme. However, we will only do so on the basis of your explicit consent.
How do we use your personal data?
We may use your personal data where this is necessary to pursue our legitimate interests as a provider of bursaries including to:
send you evaluation forms to collect data about your post-qualification career progression
contact you about opportunities to share your experience as a bursary case study or speaker
You have the right to object to the processing of your personal data on the basis of legitimate interests as set out below, under the heading Your rights.
We may also process your personal data if required by law, including responding to requests by government or law enforcement authorities, or for the prevention of crime or fraud.
Who do we share your personal data with?
We may share your personal data with members of the City & Guilds Group. You can read more about our group companies at www.cityandguildsgroup.com. We take all reasonable steps to ensure that our staff protect your personal data and are aware of their information security obligations. We limit access to your personal data to those who have a genuine business need to know it.
We will ensure there is a contract in place with the categories of recipients listed above which include obligations in relation to the confidentiality, security, and lawful processing of any personal data shared with them.
Where a third party recipients is located outside the European Economic Area, we will ensure that the transfer of personal data will be protected by appropriate safeguards, namely the use of standard data protection clauses adopted or approved by the European Commission where the data protection authority does not believe that the third country has adequate data protection laws.
We will share personal data with law enforcement or other authorities if required by applicable law.
How long will you keep your personal data?
We will retain personal data relating to your bursary application at the City & Guilds group following the outcome of your application for 10 years following your application.
Where do we store your personal data and how is it protected?
We take reasonable steps to protect your personal data from loss or destruction. We also have procedures in place to deal with any suspected data security breach. We will notify you and any applicable regulator of a suspected data security breach where we are legally required to do so.
Where you have a username or password (or other identification information) which enables you to access certain services or parts of our site, you are responsible for keeping this password confidential. We ask you not to share a password with anyone. Unfortunately, the transmission of information via the internet is not completely secure. Although we will do our best to protect your personal data, we cannot guarantee the security of your personal data transmitted to our site; any transmission is at your own risk. Once we have received your personal data, we will use strict procedures and security features to try to prevent unauthorised access.
Your rights
Under the GDPR, you have various rights with respect to our use of your personal data:
Right to Access
You have the right to request a copy of the personal data that we hold about you by contacting us at the email or postal address given below. Please include with your request information that will enable us to verify your identity. We will respond with 30 days of request. Please note that there are exceptions to this right. We may be unable to make all information available to you if, for example, making the information available to you would reveal personal data about another person, if we are legally prevented from disclosing such information. Or if your request is manifestly unfounded or excessive.
Right to rectification
We aim to keep your personal data accurate and complete. We encourage you to contact us using the contact details provided below to let us know if any of your personal data is not accurate or changes, so that we can keep your personal data up-to-date.
Right to erasure
You have the right to request the deletion of your personal data where, for example, the personal data are no longer necessary for the purposes for which they were collected, where you withdraw your consent to processing, where there is no overriding legitimate interest for us to continue to process your personal data, or your personal data has been unlawfully processed. If you would like to request that your personal data is erased, please contact us using the contact details provided below.
Right to object
In certain circumstances, you have the right to object to the processing of your personal data where, for example, your personal data is being processed on the basis of legitimate interests and there is no overriding legitimate interest for us to continue to process your personal data, or if your data is being processed for direct marketing purposes. If you would like to object to the processing of your personal data, please contact us using the contact details provided below.
Right to restrict processing
In certain circumstances, you have the right to request that we restrict the further processing of your personal data. This right arises where, for example, you have queried the accuracy of the personal data we hold about you and we are verifying the information, you have objected to processing based on legitimate interests and we are considering whether there are any overriding legitimate interests, or the processing is unlawful and you elect that processing is restricted rather than deleted. Please contact us using the contact details provided below.
Right to data portability
In certain circumstances, you have the right to request that some of your personal data is provided to you, or to another data controller, in a commonly used, machine-readable format. This right arises where you have provided your personal data to us, the processing is based on consent or the performance of a contract, and processing is carried out by automated means. If you would like to request that your personal data is ported to you, please contact us using the contact details provided below.
Please note that the GDPR sets out exceptions to these rights. If we are unable to comply with your request due to an exception we will explain this to you in our response.
Contact
If you have any queries about this Policy, the way in which City & Guilds processes personal data, or about exercising any of your rights, please send an email to gdpr@cityandguilds.com or write to Data Protection, City & Guilds, Giltspur House, 5-6 Giltspur Street, London EC1A 9DE.
Complaints
If you believe that your data protection rights may have been breached, and we have been unable to resolve your concern, you may lodge a complaint the applicable supervisory authority or to seek a remedy through the courts. Please visit https://ico.org.uk/concerns/ for more information on how to report a concern to the UK Information Commissioner's Office.
Changes to our Policy
Any changes we may make to our Policy in the future will be posted on this page and, where appropriate, notified to you by e-mail. Please check back frequently to see any updates or changes to our Policy.
You can also obtain an up to date PDF copy of this policy here: https://www.cityandguildsgroup.com/group-policies#privacy.
Free courses and other funding options
Not eligible for our bursary programme or want to start learning now? Here is a list of free courses, other sources of funding available and funding searches and directories.
IBM SkillsBuild
Just launched: exclusive access in the UK to IBM's world-class training platform offering digital skills that will help you land a job.
Find out more
Register your interest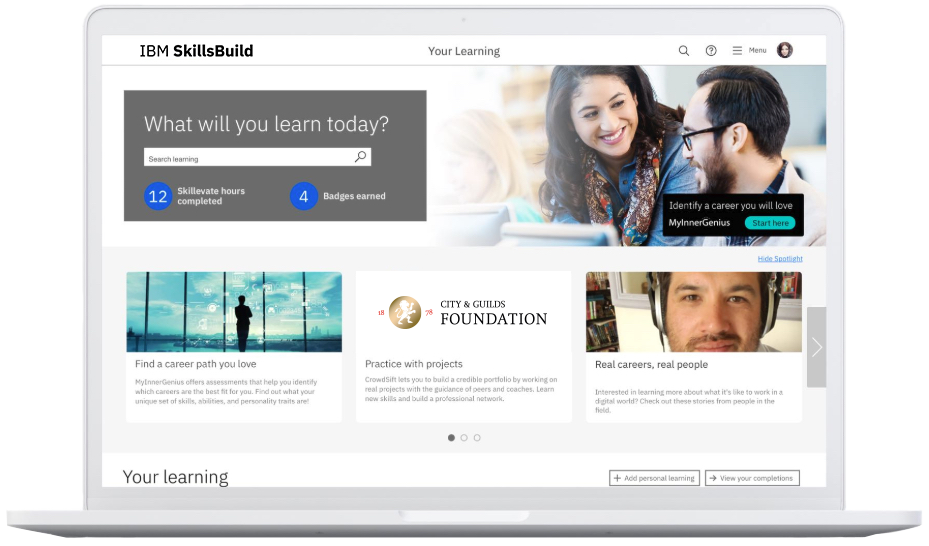 We have compiled a list of free online resources across our networks from courses to equipment donations. See our digital poverty page for more information.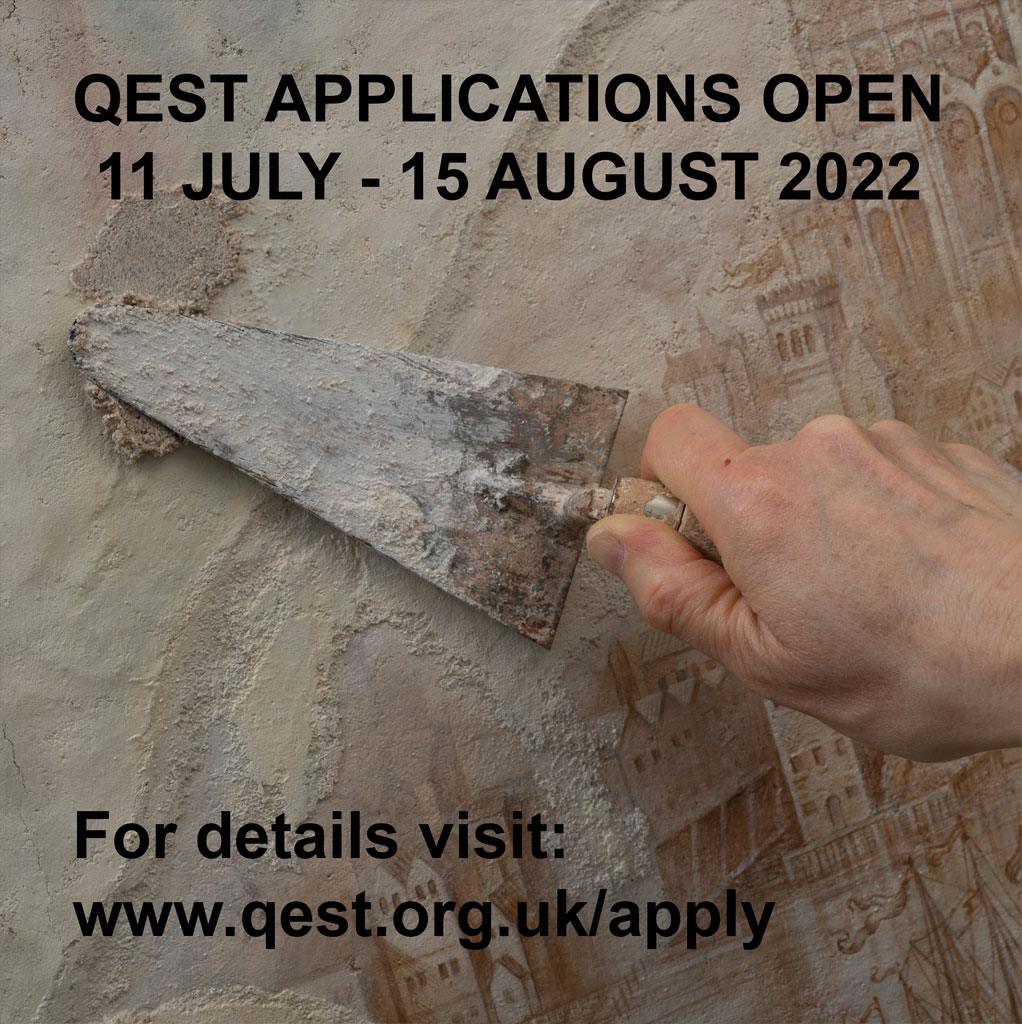 The Queen Elizabeth Scholarship Trust accepts new applications for funding in July and August each year. Talented and aspiring candidates can apply for up to £18,000 to further their education through traditional college courses, vocational training, apprenticeships or one-to-one training with master craftsmen. Find out more.