Course of the month: Fundamentals of Sustainability & Technology
Are you looking for an opportunity to build skills for jobs in the green economy and contribute to a more sustainable future? By enrolling in this 10-hour learning plan, you'll have the chance to learn about sustainability science and its applications in various fields of technology. Not only will you gain knowledge about sustainability, but you'll also develop practical skills to make a difference in various industries such as renewable energy, sustainable agriculture, green building, and waste management. Complete this course & earn a digital badge.
Find out more on SkillsBuild website
Building professional,

 

technical, and workplace

 

skills
SkillsBuild is a learning platform from IBM that offers new and curated digital learning content to help you develop knowledge and skills, whether you are interested in skilling up for the digital economy or taking the first steps towards a new career. You can study whenever you want and the platform is entirely self-paced.
% of jobs the World Economic Forum predicts will require technology skills by 2022.
"SkillsBuild is an invaluable compilation of soft skills and technical skills that can be applied to almost any job. I've earned three badges and am working toward more. It's hard to believe it's free!"

Digital credentials to demonstrate what you've learned
You can earn IBM-issued digital credentials by completing learning paths, collections of shorter courses compiled by experts at IBM. Add these credentials to your professional networking profile to showcase your new job skills and boost your job prospects. Some users may also be able to use these credentials as evidence for virtual work experience or as part of the 20% off-the-job training requirement for apprenticeships.
A full list of digital credentials available for you to earn on the SkillsBuild platform can be viewed here.
Examples of learning paths available on SkillsBuild
There are hundreds of courses available, from employability skills to advanced digital, IT and analytics. Here is a collection of learning paths available that users can work through.
Job readiness skills
Develop a LinkedIn Profile​
Write a Good Resume​
Build Interview Skills​
Job Application Essentials  
Succeed at Work​
Search for Work in Difficult Times​
Work from Home​
SkillsBuild Presents: Job Exploration Webinars
Essential skills
Agile Methodology​
Agile Explorer – Powered by Agile at IBM ​
Agile and Design Thinking​
Artificial Intelligence ​
Blockchain​
Cloud Computing​
Cybersecurity​
Data and Analytics​
Design Thinking ​
Digital Marketing​
Digital Strategy for Small Business​
How it Works: Emerging Technology​
Innovative Ways of Working​
Internet of Things (IoT)​
Open Source Software Quantum Computing​
Working in a Digital World: Essential Skills​ ​
Essential skills for small business owners
Be an Entrepreneur​ ​
Business Fundamentals​
Finance Fundamentals​
Grow Your Business​
Manage Your Business​
Virtual Business Management
Professional skills
Career Planning​
Career Exploration Ideas​
Collaboration​
Communication Skills​
Critical Thinking​
Decision Making​
Digital Literacy​
Diversity and Inclusion​
Entrepreneurial Mindset ​
Explorations into Mindfulness​ ​
Interpersonal Skills​
Leadership and What Leaders Are Looking For​
Mindfulness​
Problem Solving​
Professionalism at Work​
Project management​
Resilience​
Virtual Teaming​
Working in a Digital World: Professional Skills ​
Role-based skills
Customer service representative ​
Network Security Analyst​ ​
Cybersecurity professional​
Data analyst ​
Enterprise Design Thinking Practitioner ​
Enterprise Design Thinking Co-Creator​ ​
Enterprise computing professional ​
Red Hat Certified System Administrator
Project manager ​
Web developer
Introduction to Programming​
Learn HTML​
Learn CSS​
Learn JavaScript​
Learn GitHub​
IBM is offering a series of free bootcamps to help people develop the skills they need for in-demand tech jobs. The bootcamps are open to anyone, regardless of experience or background. They are ten weeks long, beginner level, and facilitated virtually.
Front-End Web Development Programme
Beginner level | 10 weeks | Encouraged Support
Course Start Date: 12 September 2023
Data Analytics Programme
Beginner level | 10 weeks | Encouraged Support
Course Start Date: 26 September 2023
Cybersecurity Programme
Beginner level | 10 weeks | Encouraged Support
Course Start Date: 10 October 2023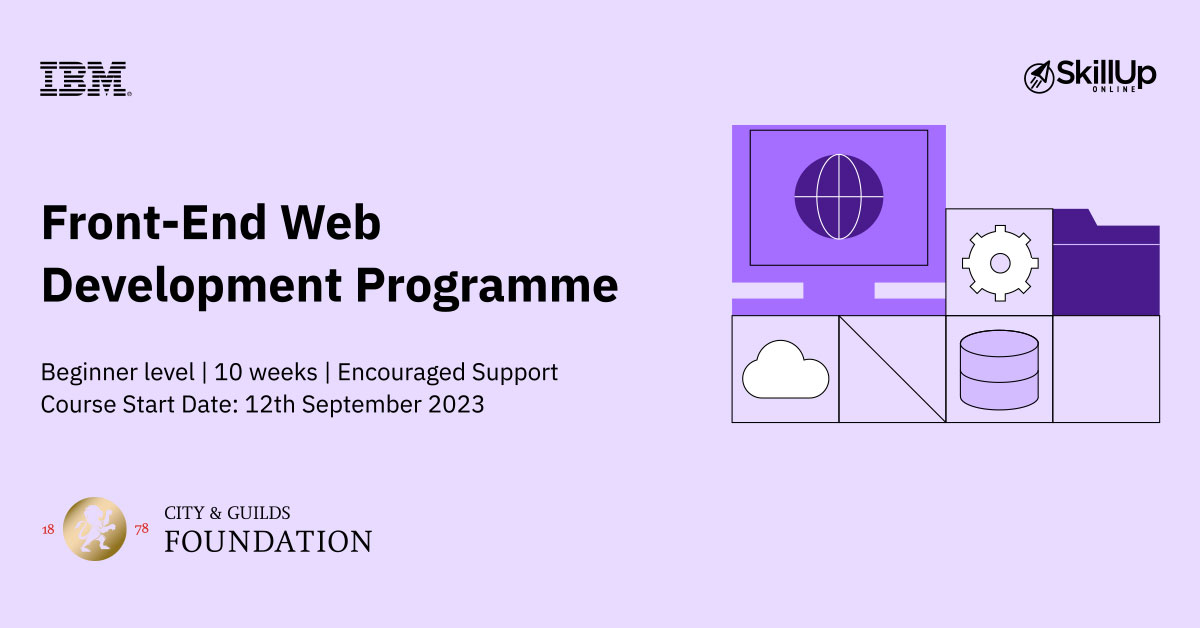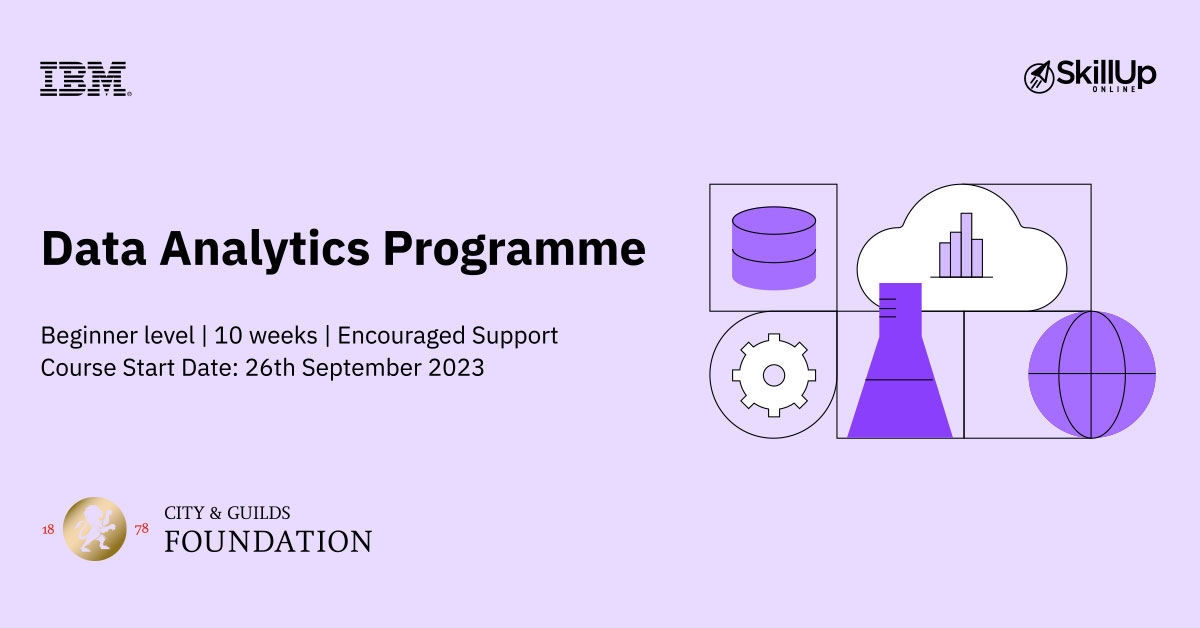 Fill in the form below and we'll register you as a beneficiary on the City & Guilds Foundation's SkillsBuild platform. Registration may take 24-48 hours and you'll receive an email directly from IBM with a link to sign into the platform.
Logging in to the SkillsBuild platform
How to access the platform for the first time and how to create your unique IBM ID.
Once you've registered your interest using the form above, we will register you on the SkillsBuild platform within 24-48 hours. Once we register you, you will receive an email from IBM welcoming you to SkillsBuild. Before you can access SkillsBuild for the first time, you may have to create an IBM ID using the same email that you registered with. This takes a few moments and is a one-time thing. Once you have your IBM ID you can use it to login to the platform. If you are a gmail user, you can use that to login by clicking 'Login with Google' and will not need to create an IBM ID. Contact us on SkillsBuild@cityandguilds.com if you have any difficulties.
Want to see a demo?
Check out this Design Thinking course which has been designed to help you understand design thinking as an approach to problem solving. It covers design thinking's terminology, concepts, and application including topics such as human-centered design, prototyping, the Keys, and the Loop.
Like what you see? Register your interest to get access to the full learning catalogue along with the ability to track your learning and earn digital credentials.