No one is untouched by Covid-19, and we are humbled by seeing so many of our communities and partners responding with such energy and grace to what is a difficult time for people and societies all over the world.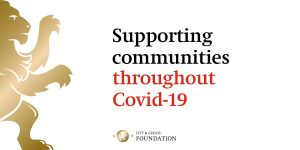 We know that people need support now, to help them get the food, medicine and essential supplies to survive. We also know that many people are concerned about their work and employment prospects as the economic impact unfolds and people face losing their jobs and livelihoods.
The City & Guilds Foundation is committed to providing inspiration and practical support to people now, to help us prepare for the world we wake up in tomorrow. Now more than ever it is important that we are doing whatever we can to help people build skills and find practical routes into employment, no matter what their circumstances.
Through amplifying our core purpose –  supporting people into, on the, and onto the next job – we will be focusing a number of social investment and advocacy programmes to help our networks and organisations working tirelessly to deliver vital services in this time of turbulence.
We'll share all our activities on this site when live, but please do get in touch with us with any ideas about how we can deliver our purpose together.
Connecting communities
Part of our purpose as a Foundation is to bring together people from all walks of life who are passionate about breaking down barriers to developing skills and meaningful employment. As the situation around Covid-19 presents a new way of learning, working, and living for us all, we'll be sharing insights, ideas and innovative ways individuals and organisations are facing up to challenges. Whether you're an employer, a student or a charity, we'd love to hear from you and for you to check out what's going on around our communities.
Note for L&D and HR leaders
Working with our Princess Royal Training Awards alumni we are hosting an L&D hour to submit questions and have live discussions on the new challenges brought by the Covid-19 outbreak. Join us to learn from colleagues and share ideas.
Note for charity partners
We've signed up the Flexible Funders pledge, to show our support for our partner organisations that do such important work. To discuss your initiative further, get in touch with us.
Note for Prison and Probation service providers
We recently launched the Future Skills Commission for Prisons to identify and activate practical support to help prisoners develop skills and find a job on release. Prison and probation are under more pressure than ever, as are employers who give offenders a second chance, so we're doing whatever we can to support charities and organisations delivering on the frontline. Get in touch if you want more information.
Opening access to learning resources
City & Guilds is providing free digital learning resources for anyone; find out more on their dedicated Covid-19 page.
City & Guilds Group response
As a multi-national organisation working with education providers, employers and governments in over 100 countries, the City & Guilds Group is closely monitoring the global situation and putting in place our own measures to support our employees, customers and stakeholders. Read our full response on the City & Guilds Group website.
Got an idea around how to address a Covid-19 challenge? Contact us via the form below.