Two Princess Royal Training Awards recipients receive a royal visit!
Over the past few months, HRH The Princess Royal has continued to actively support the work of City & Guilds and paid official visits to Princess Royal Training Awards recipients. The Awards recognise employers who can evidence the impact staff development has on their organisation and people.
Veolia
The Princess Royal visited Veolia's Southwark Integrated Waste Management Facility where she undertook a tour of the state-of-the-art facility. As the UK leader in environmental solutions, Veolia provides a comprehensive range of waste, water and energy management services designed to drive the circular economy and conserve scarce raw materials. The Princess saw Veolia's innovative commitment to focusing on carbon reduction by preventing pollution, preserving natural resources, protecting biodiversity, combating climate change and raising environmental awareness.
Veolia were awarded a PRTA in 2019 for developing and implementing the 'Respect at Work' campaign and associated training as employees were suffering from abuse on a daily basis from members of the public whilst working on municipal contracts, i.e. street cleansing and collections. The Princess had the opportunity to meet a large number of essential workers who gave significant service during the pandemic. She heard from trained employees about the impact that their training has had on their lives.
Princess Yachts
The Princess Royal also visited Princess Yachts, who were awarded in 2020 in recognition of their innovative and highly effective partnership with South Devon College in ensuring their apprentices developed the skills necessary to provide a sustainable workforce for the future.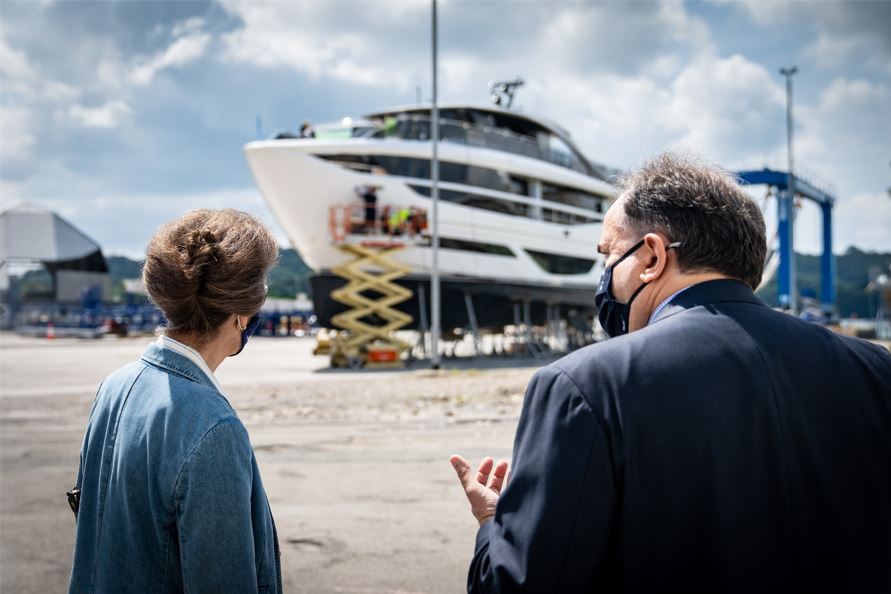 Princess Yachts have been building luxury yachts since 1965 and are based in a 1.1m square foot 17th-century former naval yard in Plymouth. The workforce of over 3000 people combine the highest levels of traditional craft skills with cutting edge technology, contributing to the UK's rich maritime heritage. They actively engage with over 35 local schools around STEM subjects and encourage young people to apply for their apprenticeships. In 2020 they received 475 applications and took on 66 apprentices. Working especially hard to encourage women to apply has enabled them to achieve a 25 / 75 split with an aspiration to meet their 50 / 50 target.
As a keen sailor herself, The Princess visited the working boatyard and met with staff and apprentices across the range of skill areas necessary to construct world-class vessels.
City & Guilds partnership with The Prince's Foundation receives royal recognition from HRH Prince of Wales and HRH The Princess Royal!
In recognition of their shared commitment to the preservation of heritage craft skills, City & Guilds and The Prince's Foundation recently announced a new partnership which will see students on a variety of the Princes' Foundation training courses at Dumfries House receive qualifications accredited by City & Guilds.
HRH The Princess Royal, President of City & Guilds, joined HRH The Prince of Wales, President of The Prince's Foundation, to congratulate the first cohort of students to graduate with City & Guilds awards. The recipients are all members of the Dumfries House Sewing Bee, which since 2016 aims to establish a community of sewing practitioners in the local community. For many of this cohort, this was the first formal recognition of skills they had ever received.
Over the coming months and years, students undertaking training with The Prince's Foundation in a range of curriculum areas including hospitality, fashion and textiles, and traditional building craft skills will work towards City & Guilds awards at the Dumfries House centre of craft excellence.
This double royal event also recognised the Director of HMP Kilmarnock Craig Thomson FCGI who was awarded The Prince Philip Medal in recognition of him dedicating more than 30 years advocating for innovative skills training in prisons as the proven pathway to reducing re-offending.
Alison Strachan was the proud recipient of The President's Award, having established the Queen's Bindery Apprenticeship Scheme at Windsor and worked with Help for Heroes at Tedworth House through her chairmanship of Bound by Veterans.
The Princess also presented Peter Taylor MBE FCGI, Director of The Goldsmiths' Centre, and Reginald Hankey FCGI, CEO of Pittards plc, with their Fellowships in recognition of their contribution to skills development and craft excellence.
City & Guilds has enjoyed royal patronage since it was established 143 years ago, and this very special double royal event underlined the opportunities and privileges being a royal charter body offers.