Young carers provide unpaid care and support to family members or friends who have a disability, illness, mental health condition, or substance misuse problem. According to our partners the Carers Trust there were 177,918 young carers in England and Wales at the last census and additionally there are 29,000 young carers in Scotland. However, this is widely believed to be the tip of the iceberg, with some estimates suggesting that as many as one in five schoolchildren are young carers (University of Nottingham 2018), with this number increasing during the COVID-19 pandemic.
City & Guilds' Youth Misspent report supported this by revealing nearly one in five (19%) young people have been, or still are, a carer for a relative, with 28% of young carers working less than eight hours a week.
The City & Guilds Foundation ran a session on Young Carers Action Day all about supporting young carers in employment. The session explored the specific challenges young carers face so that they can be better supported through the recruitment process and once in employment. Ensuring a fairer and more inclusive start for young carers as they move into the world of work.
The session also highlighted the transferable skills young carers have to offer that come from their lived experience, such as money management skills, responsibility and compassion, and excellent time management and communication skills.
Guest speakers at the event included:
Kirsty McHugh, CEO, Carers Trust
Antonia Tony-Fadipe, Inclusive Hiring Lead, The Body Shop
Lisa Jackson, Head of Operations, Going Further into Employment
Katharine Macy, Young Adult Carer
Alicia Jones, Young Adult Carer
Vishali Nagardas, Young Adult Carer
See a recording of the session below:
What can you do? Make a pledge!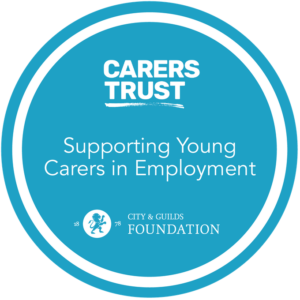 Supporting young carers in employment is essential to ensure that they can achieve their full potential and maintain their well-being. Employers and policymakers can play a vital role in supporting young carers by offering flexible working arrangements, time off for caregiving, employee assistance programs, training and awareness, and financial support. By working together, we can create a more inclusive and supportive workplace for young carers.
Make a pledge below by ticking as many of the options as you can to support young carers and we'll send you a digital credential to share with your networks.