Sharing best practice
Members of the Princess Royal Training Awards Alumni network have access to a wide range of benefits including opportunities to network with over 200 forward thinking UK-based organisations and the chance to attend many diverse events and development opportunities.
One such virtual event took place on the 3 December when Sue Gammons, former Coaching Director at GSK, presented to 25 Alumni members on how creating a systemic approach to address gender balance led GSK to receive a PRTA in 2018.
Accelerating female talent
Today most companies aspire to be more inclusive and are committed to supporting more women to move into leadership roles. For these commitments to be realised needs more than the traditional approach to leadership development. Women need to be supported to find who they are authentically as female leaders, rather than expected to embody leadership qualities that come from a male-orientated model of leadership.
GSK based its approach to Accelerating Difference on this ethos to design a programme focusing on an inclusive culture that accelerates female talent across the organisation. The model uses three main elements: Coaching; Sponsorship; and Dialogues.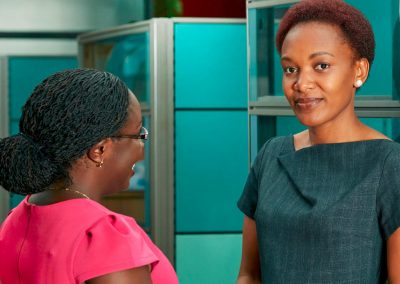 Participants have access to 1-1 and group coaching sessions where they build relationships of trust within the group, have a sponsor that they self-select and work with to develop networking opportunities and the chance to participate in a facilitated and in-depth discussion with senior colleagues to explore personal assumptions and beliefs that affect career progression.
Global success
The programme has been successfully running since 2013 and in 2020-21 the cohort doubled to 265 participants, based in 39 countries, with the training successfully being delivered virtually for the first time.
I have seen through the GSK programme that it can make a huge difference when women address their self-confidence, power, presence and communication style through coaching. Initiatives such as sponsorship and inclusion dialogues can also make a huge difference – through these senior men get a better sense of what talented women are capable of and learn to look beyond their first impressions that they may judge as less confident, and therefore less competent.

Sue Gammons, Director, Coaching for diversity
At GSK, Sue was Coaching Director and Executive Coach. She led the design and delivery of award-winning coaching and leadership development programmes for women and ethnically diverse leaders worldwide. Sue recently founded her own consultancy – Coaching for Diversity – to help companies to better support their female and diverse talent to develop and progress their careers.
To find out more about Coaching for Diversity, please contact sue@coaching-for-diversity.com
Find out more about the Princess Royal Training Awards and its Alumni